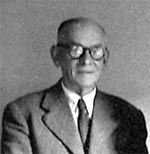 Mladen J. Žujović in Paris, 1960.
In June 1945, the communist authorities from Belgrade sent their agents to Paris to try to kidnap or kill Mladen Žujović. At the trial of General Dragoljub-Draža Mihailović and his associates, which was organized by the communist regime from 10 June to 15 July 1946 in Belgrade, he was sentenced in absence to "execution by firing squad, the permanent loss of political and certain civil rights, confiscation of his entire property and the loss of citizenship".
The pressure of the Yugoslav authorities on the French Government to extradite Mladen Žujović was so great that the French authorities granted him a visa for the USA and ensured that he reached New York, on 16 September 1946, with his invalid passport of the Kingdom of Yugoslavia.
In the USA, as a member of the Serbian National Council, he held lectures and published articles on General Mihailović and his Movement, on the political and economic situation in communist Yugoslavia and took part in organizing humanitarian relief for Yugoslav refugees.
In December 1950 he returned to Paris where he assisted Serbian refugees in their dealings with the French administrative authorities and welfare institutions. He was also in charge of SNO aid to our indigent exiles. He devoted special care to 53 students pursuing their studies in Europe on SNO scholarships.
From 1950 until his death in 1969 he worked at the Institute for Applied Economics in Paris, first as a librarian and then as a researcher.
In addition to the decorations awarded him for merits in WWI, he was also decorated with the French Legion of Honor in 1936 as recognition for his work in the Society of Friends of France.
Until his death he did not take a foreign citizenship and died as a stateless person holding the so-called "Nansen passport".